[columns]
[column size="half" last="no"]
Lovatt Foundation will use your gift to provide a Kano Kettle to a family or families living in poverty, to use for cooking and heating water.
With a Kano Kettle, a family becomes part of a grass-roots education programme that means a neighbourhood can reduce consumption of trees and the expense of firewood.
You asked…
Who Does a Kano Kettle Help?
Every household that currently uses wood for cooking fuel or lacks hot water.
Clinics that require hot water quickly.
Blacksmiths who work as artisans, using recycled and local materials in the production of the kettle.
What are the Benefits of a Kano Kettle?
Cooking: Wood-fired stoves are often used for cooking and heating water in Northern Nigeria. A Kano Kettle provides a sustainable option in the face of desertification.
Hygiene:  The hot water improves sanitation and therefore health.
Economics: A Kano Kettle conserves fuel by burning windfall, leaves and twigs within a small furnace that is fed from the top. Even green or wet wood or some safe-burning plastics can be used. Families in poverty do not have to make daily purchases of firewood.
Conservation: Northern Nigeria lies at the southern edge of the encroaching Sahara Desert, where many trees are felled for fuel. The Kano Kettle supports the Green Belt Movement's work with conservation and reforestation projects.
Employment: The Kano Kettle invigorates local crafts, utilises local materials and therefore protects the poor from the vagaries and fluctuations of exchange rates. It provides a new product for Kano's blacksmiths and metalworkers, who already provide a range of goods for the local market, often using recycled materials. Chinese imports threaten their livelihoods making youth turn away from traditional crafts and trades.
Where did the Kano Kettle Come From?
The Kano Kettle is an idea that's been around for about 3,000 years. In Russia, the samovar kept water hot all day. The Irish had their Kelly Kettle. It took the form of a thermette in Aotearoa New Zealand, where the Lovatts used it on camping trips. Fiona has developed the Kano Kettle design with local blacksmiths in Kano, so that food can be cooked on its top.
How can I help?
Your gift of $20 buys a Kano Kettle that is issued to a family who can demonstrate it in their neighbourhood. When the idea catches on, production can become streamlined, and we anticipate a drop in costs.
[/column]
[column size="half" last="yes"]
What your Donation can do*
* Amounts shown are accurate in US$ and GB£ March 2015.
---
DONATE $20(£14) buys a 6L kettle for a family to heat water, cook, and conserve wood
---
DONATE $50(£34) enables a blacksmith to get into regular production and sales
[hr style="dot"]
Kano Kettle: A Story in Images
[lightbox]
[2c_lightbox_image title="Early drawing of the initial design" group="gallery|all" src="
" last="no"]
[2c_lightbox_image title="Blacksmith at work" group="gallery|all" src="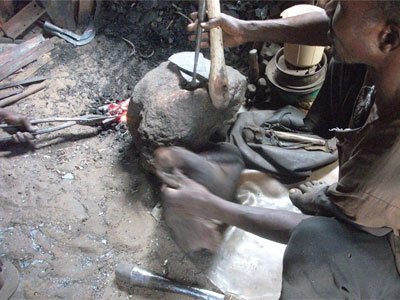 " last="yes"]
[lightbox]
[2c_lightbox_image title="Blacksmith at work" group="gallery|all" src="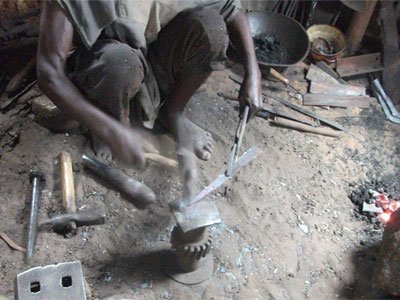 " last="no"]
[2c_lightbox_image title="Blacksmith at work" group="gallery|all" src="
" last="yes"]
[lightbox]
[2c_lightbox_image title="" group="gallery|all" src="
" last="no"]
[2c_lightbox_image title="" group="gallery|all" src="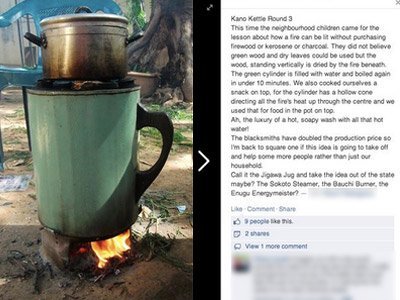 " last="yes"]
[lightbox]
[2c_lightbox_image title="" group="gallery|all" src="
" last="no"]
[2c_lightbox_image title="" group="gallery|all" src="
" last="yes"]
[/column]